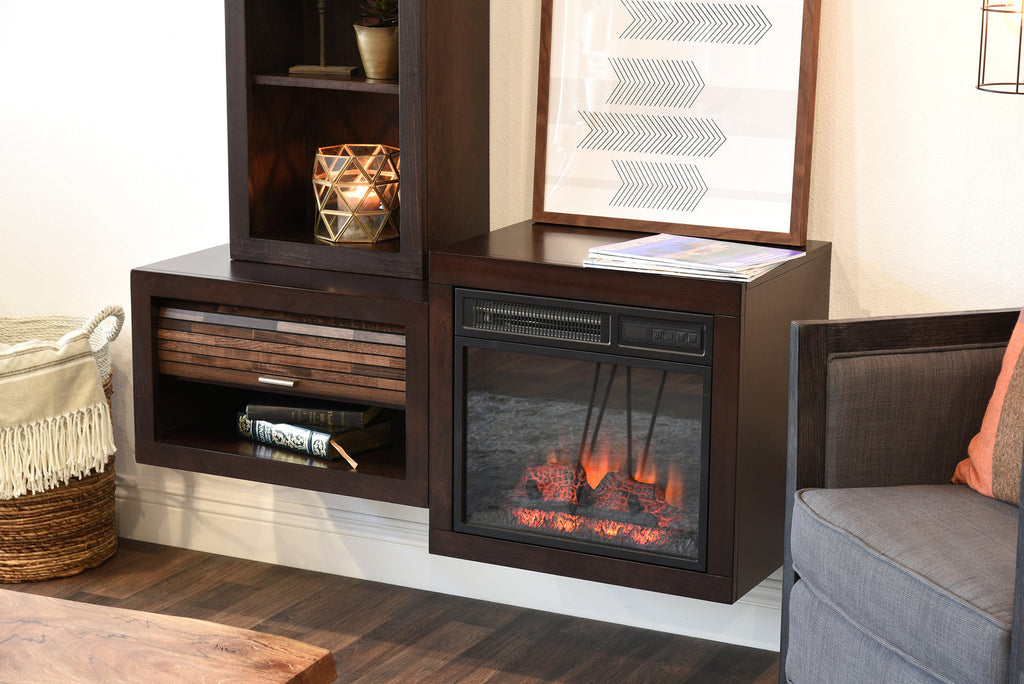 July 25, 2016
Living in a small space can be challenging and often times I wonder…where will I put 'this?' Woodwaves has created, and is continually creating, innovative ways to organize your space whether it is small or big! We shouldn't have to sacrifice comfort and simple luxuries due to a lack of space!
The newest members of our family are the Floating Fireplace units. Just as our floating entertainment centers are modular the fireplace can be mounted in a variety of configurations along side our classic Eco Geo Collection. There is the single firebox which can be purchased alone or along with our Eco Geo units! We also have a double unit, which is a fireplace on one side and a media cabinet on the other!
Space saving possibilities are endless with these contemporary wall mounted pieces. Our Eco Geo Units effortlessly float on your wall while keeping your media equipment, books, or really anything you desire to stow away, out of sight! You have the ability to create the illusion of a clutter free space without sacrificing your affinity to style!
Personally, I love the floating fireplaces, as I do not have a fireplace in my 'small space,' this is a perfect and stylish solution! An extra perk is that the electric fireplace also has a heating unit, which can be switched on and off! You can quickly heat a small room and turn it off- space saver, aesthetically pleasing and keeps you warm! If you're like me and you love to rearrange furniture these pieces can be moved and easily repurposed to accommodate your current needs. Whether you need an entertainment center with a fireplace, a single fireplace in your bedroom with a standalone Eco Geo Side unit for a nightstand or even a floating end table then this collection is for you!
There are to many possibilities to mention so go to our website and check out our modern and trendy fireplace units: http://www.woodwaves.com/collections/wall-mountable-tv-stands?page=2 Take a look at our ever popular Eco Geo Collection and realize your interior design dreams with a custom built in look for a fraction of the cost! http://www.woodwaves.com/search?type=product&q=eco+geo