June 16, 2022
The Best Father's day gifts for every type of dad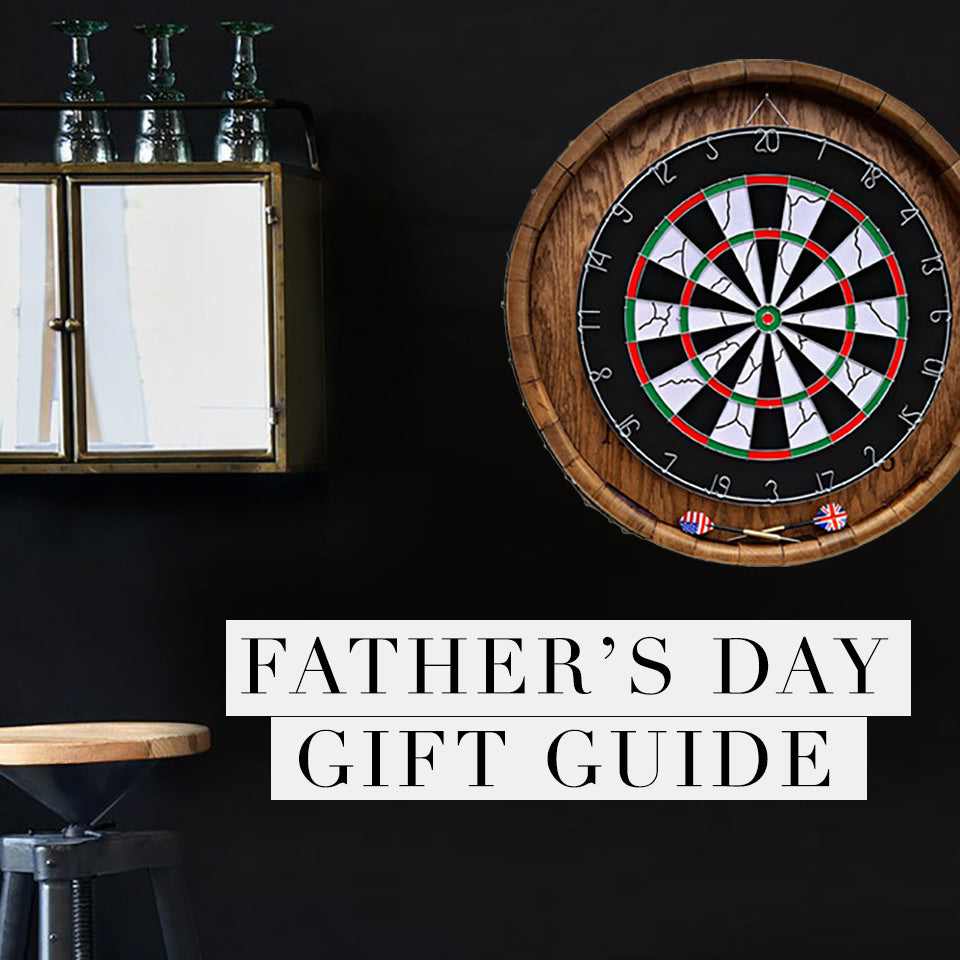 Father's Day is a holiday of honoring fatherhood. To make your father's day shopping easy, fast and fun! We have created a gift guide just for you.  There is something for every dad on your list. We offer a unique variety of gifts! 
 #1 Our dartboard that is made with repurposed oak wine barrels. 
Rustic Reclaimed Wood Wine Barrel Head Dart Board
Handmade in Arkansas with Repurposed Oak Wine Barrels
Oak Plywood Back, Get it HERE with free shipping !
#2 Live Edge Slab Rustic End Table
Our handmade 40 year old live edge slab that bears the mark of time and age for a beautiful, authentic look.  Find it Here
#3 Woodstone TV Console - Gray Pepper
Our new Woodstone collection that is modern with one-of -a-kind natural wood grain and stone that enhances the beauty and singularity of each and every console, Buy it HERE
#4 Rustic Wall Mounted Nightstands 
Our spacious drawers that offer good amount of room for hidden storage. Get it HERE. 
#5 Brown & Tan Cowhide Rug
Our faux cowhide style rug gives your space a stunning look without using a real hide! The captivating look and colors are sure to bring a cabin and country living feel to a city dwelling.  Find it HERE in our rugs section with free shipping!
#6 Brown Distressed Leather Ottoman 
Our ottoman has a distinctly contemporary style that is beautifully expressed through its cube shape. Its upholstery is made from leather that offers an excellent seating surface.  Place a serving tray atop the ottoman and easily transform it into a temporary table for you drink!  Get yours HERE.
#7 Industrial Modern Iron and Leather Chair
Our chair is perfect in any modern or transitional decor it easily adapts to your existing decor. Find it HERE.
#8 GRAY RUSTIC FLOATING TV STAND FARMHOUSE
This stunning 4 Piece farmhouse style entertainment center includes all of the necessary easy-to-use wall mounting hardware that features built in bubble levels for mounting this console level on your wall, Buy it HERE with free shipping!
#9 WINE BARREL REPLICA DARK BROWN END TABLE
Our crafted from solid wood and wood products bound with six polished metal bands, this Barrel Table features a surprisingly large storage area behind the door.  If you love wine and entertaining this piece is a perfect addition to your home!  Create an authentic winery ambiance while you serve your guests on these beautiful wine barrel tables!  Find it HERE.
#10 Soft Alpaca Wool Throw Blanket
Our Alpaca blanket that will keep you warm in the cold and cool in the heat. Its delicate fibers give a distinct softness, which can be clearly felt in this throw. Get this color and many more HERE.
#11 Woodwaves Gift Card 
 Give them the gift of choice with a Woodwaves Gift Card!
Gift cards are delivered by email and contain instructions to redeem them at checkout. Choose the amount you want to give HERE.
"As a father has compassion on his children, so the LORD has compassion on those who fear him" (Psalm 103:13)
"The father of the righteous will greatly rejoice; he who fathers a wise son will be glad in him." (Proverbs 23:24)